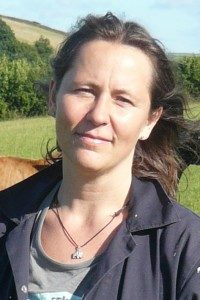 Hilary Menos was born in Luton in 1964 and read Politics, Philosophy and Economics at Wadham College, Oxford. She took a diploma in Graphic Origination and Reproduction and a postgraduate diploma in Journalism, both at the London College of Printing, where she was also President of the Student Union in 1987-88. She then worked as a food journalist in London, including a stint as a restaurant critic with Time Out, before moving to Devon in 1997 to renovate a Domesday Manor and bring up three sons, Jethro, Bruno and Linus.
In 2004, together with her partner Andy Brodie, she set up Beenleigh Manor Organics, a 100 acre mixed organic farm, selling breeding stock and finished beef and lamb. At its peak the farm ran a herd of 40 pedigree Red Ruby Devon cattle and 150 organic Wiltshire Horn sheep. Their son Inigo was born in 2006. In 2011 the decision was made to scale down the farm and by 2013 all farming activity had ceased.
She also worked with Exeter-based children's theatre company Quirk Theatre as dramaturge and script overseer between 2012 and 2016, and completed an MA in Creative Writing at Manchester Metropolitan University in 2013. She has reviewed for Happenstance, PN Review and Warwick Review. In 2016 the family moved to France to renovate a fifteenth century Templar lodge in the Tarn and develop their web design company, Magic Bean.
She won the Envoi Poetry Competition in 2002. Her first pamphlet, Extra Maths (Smith/Doorstop, 2004), was one of four first stage winners of The Poetry Business Book and Pamphlet Competition 2004. Her first full collection, Berg (Seren Books, 2009), won the Forward Prize for Best First Collection 2010. Her second pamphlet, Wheelbarrow Farm (Templar, 2010), was one of four winners of the Templar Poetry Pamphlet and Collection Competition 2010. Her second full collection, Red Devon, was published by Seren Books in June 2013.