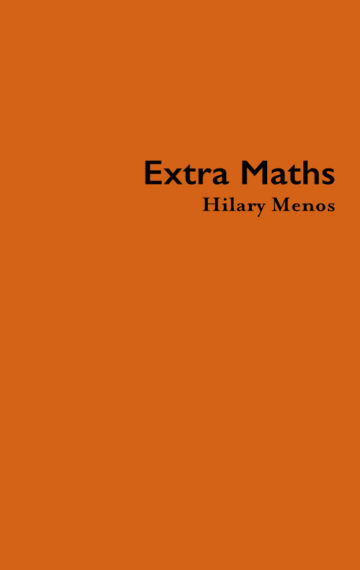 £5
Publisher:

Smith/Doorstop

Available in:

paperback

ISBN:

9781902382746

Published:

9th March 2004
buy it from The Poetry Business
Extra Maths was a first stage winner of the Poetry Business Book and Pamphlet Competition 2004.
"Elegant, witty, poignant, polished. This is poetry that makes me gasp." — John Latham
"She observes her personal life and transmutes it into poetry with skill and purpose." —  Gerard Benson
Extra Maths
My father is giving me extra maths. I am ten.
If one tap fills the bath at the rate of a litre a minute
and one fills the bath at the rate of a gallon an hour
and water escapes from the plughole at two pints a second
how long before we can take a bath?
I stand on one leg. My brother is watching TV.
Outside the other kids are bombing the hill on a go-kart.
My father gouges his pipe with his penknife,
dumping black tar into his cold baked beans.
My mother hates it.
Upstairs, water seeps over the rolled enamel rim,
steals down the side of the bath and through the boards,
easing its way down the white plastic flex
of the light fitting over my father's head
at a rate incalculable to man.
Read a review of Extra Maths here